I am here… sprinkling permission slips to embrace your creativity with childlike joy and wonder. Sign up for online workshops and in person classes & visit my shop for my heart filled packages put together with love just for you.
♥ New workshop - Tiny Sacred Art Journals, part two: the travel journals
This workshop is an invitation to travel lightly beside me, both near and far. Travel is a relative term as I am talking about local travel, foreign travel, a quick overnight, a weekend away or simply a bit of time to escape the everyday.
We will strip away all the over thinking. Very little is needed and I find the more limited my palette is, the more my creativity expands.
Learn More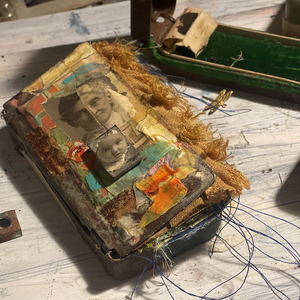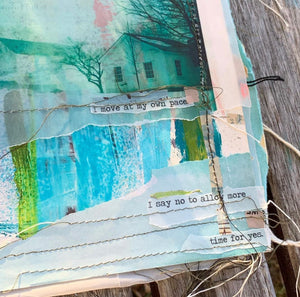 Lost & Found
Perfect for going forward into a new season, Lost & Found is a self-paced workshop about unblocking, playing, connecting and experimenting as we alter canvas, paper, and pages and surfaces using an assortment of mixed media supplies (my version of art supplies) and techniques.
Learn more
What people are saying...
"Thank you for this wonderful and amazing class. You have truly inspired me and I have had so much fun along the way. I love the process and your teaching style. I look at simple things with a different eye now and know that materials are all around waiting for our loving touch."
Workshops & Retreats
The people who find their way to my workshops are beautiful. They are seekers and makers: soulful and brilliant.
Come gather together for an afternoon full of paint, thread and goodness.
Learn more →
News & Press
I have been hosting mending & slow stitching circles at my studio. And for this last one my sweet mother-in-law came and sat in this circle. What a gift. After...
Creativity. It takes us out of our thinking brain and puts us right into this exact moment.  Although I teach & live this, over the past weekend Mike and I...
I was recently published in the "In Her Studio" magazine.  If you'd like a copy, you can purchase it here: https://stampington.com/In-Her-Studio-Winter-2023/ 
View all News & Press →